Saturday 05/01/2021
Parents of Graduating Students and Graduating Students,
Please make sure to download any reports or information you wish to keep for your records from the student/parent portal by the third week of June. Your Infinite Campus portal account will be disabled after this date. If you have questions, please contact your school.
The school email account will be deleted on January of 2022. You will no longer have access as of Saturday, January 1, 2022.
Note: Parent and Student portal Account Disabling only applies to students who do not have any future enrollments and parents who have no students enrolled in the next school year.
---
Friday 04/09/2021
Parents and Guardians,
The Free and Reduced Meal Application for the current school year can be completed online in the parent portal under the More tab >  Meal Benefits. The application for the school year 2021-2022, will be available August 1st, 2021. For more information and detailed instructions of how to complete the online application, please visit the Food and Nutrition Department page. 
Padres y tutores,
La Solicitud de comidas gratis o de precio reducido para el año escolar actual se puede completar en línea en el portal para padres en la pestaña Más> Beneficios de comidas. La solicitud para el año escolar 2021-2022, estará disponible el 1ro de agosto del 2021.
Para obtener más información e instrucciones detalladas sobre cómo completar la solicitud en línea, visite la página del Departamento de Alimentos y Nutrición.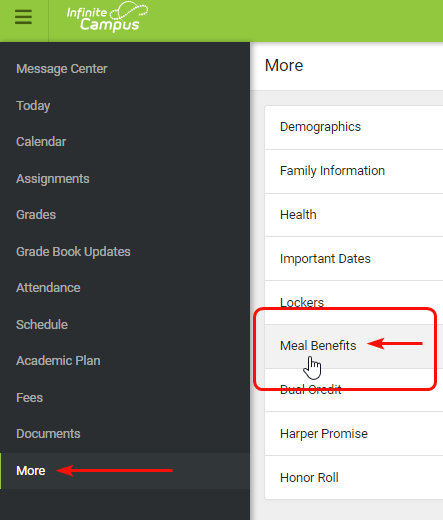 ---
Friday 04/09/2021
Summer School 2021
The District 214 summer school program registration begins April 9th. We are offering both in person and online schedules. For all the details, visit the summer school page. If you need additional information call your student's home school. 
---
If you have an existing account, please click Forgot Password? or Forgot Username? which is located under the Log In Button.
For additional support with logging in or if you need an account, contact the District 214 portal support desk at 6565@d214.org. Support is available from 7:30 a.m. to 3:00 p.m. Monday through Friday. If you leave a message, you will receive a response during those business hours.  

Portal support will respond to emails typically within one business day, but responses may be delayed during busy times of the year such as opening of school and end of terms.

When contacting support please help us better resolve your portal questions in a timely manner and be sure to include all of the following information:
Your Name:
Student(s) Name:
School(s) your child attends:
Parent Portal Username:
Email address on file:
Please note that email contact is preferred for security, documentation and accuracy purposes. 

If you have any questions or concerns about your child's grades or other information, please contact your child's school.
Si tiene una cuenta existente, haga clic en ¿Olvidó su contraseña? o ¿Olvidó el nombre de usuario? que se encuentra debajo del botón Iniciar sesión.

Para ayuda adicional para ingresar, contacte al departamento de ayuda del Portal del Distrito 214 al 6565@d214.org. Ayuda disponible de 7:30 a.m. a 3:00 p.m. lunes a viernes. Si deja mensaje, usted recibirá respuesta durante horas hábiles de oficina.

Si tiene alguna pregunta o preocupación acerca de los grados de su hijo o alguna otra información, por favor contacte a la escuela de su hijo.